I don't know about you guys, but the wedding "save the dates" have already started rolling in! Bryce and I are up to 4 at this point. In this situation, I typically look for one dress that can work for most (if not all) of them. This is also why I don't mind spending a little more... And, it's nice to have a good closet of dresses for your friends to choose from as well! Why not borrow from one another if you can?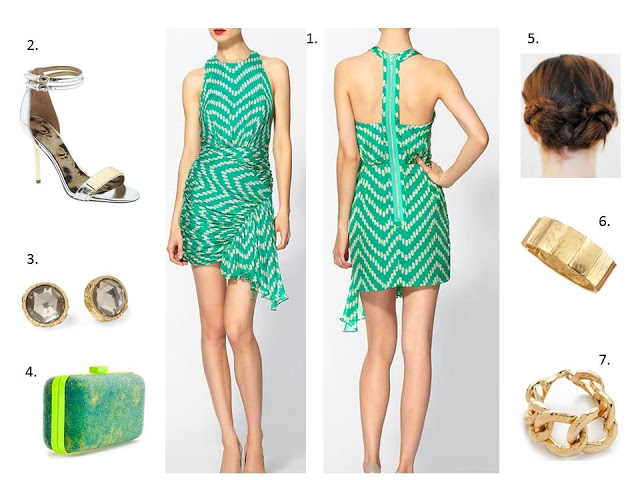 1.
: Milly makes a beautiful, timeless dress. I love the fit and fabric of her clothing and the few pieces I own will be handed down to my daughter or niece. This particular one has unique draping in the front and then a serendipitous racer back exposed zipper to finish it off. Not to mention the emerald green - representing the pantone color of the year! Worth the price for all of that dancing you are going to do this summer!
2.
Sam Edelman Ankle Strap Sandals
: loving the high ankle strap this season. It elongates the legs and gives good calf definition at the same time. The two-tone look compliments the emerald dress. Metallics are the best neutral out there.
3.
: So simple, yet the perfect, elegant stud for a special event or everyday!
4.
: pop of neon! Such a cool clutch to spice up the wardrobe!
5.
: this is one of my all time fave hairdos and it's super easy! Perfect for a wedding or a day at work. It's my go-to! Click on the link for a quick tutorial. I do recommend buying
for ease and comfort of making this hair a reality!
6. + 7.
Stacked Kenneth Jay Lane Bracelets
: I am a less is more girl with jewelry - my rule is if I wear earrings I don't wear a necklace. If I wear a necklace I don't wear earrings. But, there is always room to stack bracelets and bangles!
Do you guys have weddings on the calendar yet?
Cheers to happy couples,
kiki